January 2019 Minutes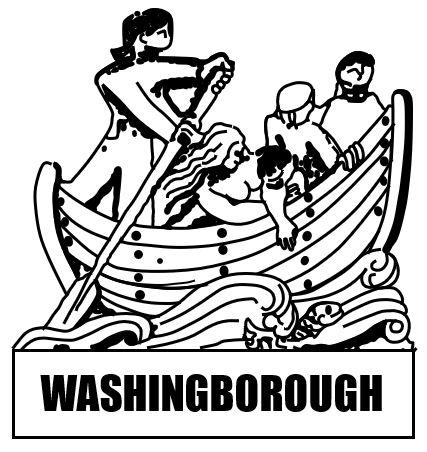 THESE NOTES WERE TAKEN BY THE CLERK AND CANNOT BE REGARDED AS OFFICIAL MINUTES OF PROCEEDINGS UNTIL APPROVED AND SIGNED AT THE NEXT PARISH COUNCIL MEETING
Washingborough Parish Council
Minutes of the Parish Council held at Washingborough Pavilion on Thursday 17th January 2019 at 7.30pm
Present
Councillor D Fothergill (Chairman)
Councillor Mrs J Aspinall
Councillor R Clark
Councillor G Kent
Councillor G Peck
Councillor Mrs Pierce
Councillor Mrs Simons
Councillor R Oxby
Councillor I Carrington
Clerk, Miss K Broddle
Mrs M Romaine (Assistant Clerk)
Also Present: 1 Parishioner
2456. APOLOGIES, DECLARATIONS OF INTEREST AND APPLICATIONS FOR DISPENSATION
2456.1 APOLOGIES – were received and accepted from Cllr Mrs Bland, Dowlman, Herring and Cawrey
2456.2 DECLARATIONS OF INTEREST – received from Cllrs Fothergill, Aspinall, Clark, Kent, Peck, Pierce and Simons with regard to the Precept Request (minute 2152.3)
2456.3 APPLICATIONS FOR DISPENSATION – were granted for the above.
2457. RESIGNATION OF CLLR M DYCHE
Resignation notice had been received from Mr Dyche.
2458. NOTES OF THE PREVIOUS MEETING held on the 13th December 2018, were agreed and signed as the minutes.
2459. MATTERS OUTSTANDING/ARISING
2459.1 All hirers have been advised of their responsibilities when hiring the Community Centre
2459.2 Application to the Co-op's Community Champions Scheme has been submitted.
2459.3 Anglian Water – advised that they are unable to undertake the laying of the Lincoln to Grantham pipeline at the same time as the Eastern by Pass is under construction as their timescales do not coincide with this
2459.4 Thanks have been received from the Parochial Church Council regarding notification of their grant for 2019/20
2460. DISTRICT AND COUNTY COUNCILLOR REPORTS
NKDC – Budget; preparation is now in the final stages. Investment Plan; £200m is being invested in in future of the District. New Year New Jobs; new business park to open near Sleaford, creating 600 jobs. Protecting Pets; NK Licensing applying the new animal welfare protection rules. Protecting Democracy; NK trialing a voter ID scheme in May designed to stamp out fraud at elections. Primary Health Care Provision; a report is to be presented at to NK executive Board to improve the healthcare provision from developers.
LCC – Falls Service; £400k allocated to run a pilot scheme with EMAS and LIVES for a quicker service response. Lincolnshire Resilience Forum; community groups are being encouraged to sign up a new text alert service to aid awareness of emergencies in their area. Adult Social Care; to receive an additional £3.7m in both the next two years to help provide improved services and wellbeing. Budget; will be finalised shortly, a briefing will be held on 25th January at 10am for any
interested parties. Eastern by Pass; Hawk Plant, one of the contractors for this project has gone into administration, disruption to the scheme should be minimal.
2461. PUBLIC FORUM
No questions were asked.
2462. NOTES FROM COMMITTEES
2462.1 FINANCE AND GENERAL PURPOSES COMMITTEE, 10th January 2019.
The notes were circulated prior to the meeting and reported on by Cllr Mrs Simons
It was resolved to move the Gratuities section into closed session.
The following recommendations were resolved:
To use hire monies from the sporting clubs for the Pavilion & Playing Fields budget, to help cover the shortfall for this year;
Move the F&GP meeting day to second Monday, at 6.30pm from April 2019;
To request the safe disposal of the redundant laptop to be undertaken by Councils IT Specialist;
For the clerk to organise the binding of previous years minutes to the value not exceeding £600;
To reorganise the pension scheme offered to employees –
to close the current LGPS on 31st March 2019 and open a NEST pension scheme from 1st April 2019 to new employees; to allow current LGPS employees to remain in that scheme: to hold a consultation period for current employees to fully explain their options and the implications, in any for them;
Items from the Forward Plan for completion in 2019/20 are decoration of the Civic Office, the Main Hall in the Community Centre and curtains for areas within the Community Centre
2462.2 The budget for the financial year 2019/20 was agreed
2462.3 The Precept request of £147,590 for the financial year 2019/20was resolved.
The following items, in respect of the Precept were resolved –
LALC Training Course agreed for the clerk and assistant to move to their next SCP - (25 and 9 respectively);
the grounds man, caretaker and environmental handyman to receive a 3% salary increase from April 2019;
to join the LALC training scheme;
excess staffing budget for 2018/19 to be transferred to Staffing reserve;
income from LAP's and Wayleaves to be transferred to Forward Plan reserve;
monies from Playing Field reserve to be used to clean and repaint the MUGA;
the arts project reserve to move to Forward Plan reserve.
2463. REPORTS
2463.1 COMMUNITY CENTRE:
i. Booking request from the Army Cadets – it was agreed to charge a reduced fee of £50 for this event.
ii. Decorating Plan - a flexible six-year plan was agreed.
2463.2 HIGHWAYS:
i. Zebra Crossing, Fen Road – it was agreed for the clerk to contact LCC Highways and request upgrades to the crossing.
ii. Footpath and Road Widening on the B1190 – it was agreed to initially contact the neighbouring
Councils to ask for their support prior to requesting LCC Highways to survey the road and its increased usage.
2463.3 STAFFING PANEL: the clerk is making good progress on the re-organisation of the office and all owing hours have been cleared
2463.4 SOCIAL MEDIA:
Posting on the website and face book during the last month include:
raising awareness on: Bogus Caller Alert, Community Lincs Community Cuppa Fund, Lincs Crime and Policing Survey, Western Power's Winter Resilience Committee, the Agenda for the F&GP meeting, and a link to the latest 'fly by' video on the Lincoln Eastern Bypass. We also wished our Parishioners a Merry Christmas and Happy New Year.
2463.5 POLICE REPORT: December and January reports were received.
2463.6 TWINNING ASSOCIATION: a visit to Orgerus has been organised for 21st Oct 2019 and it is hoped that the Academy pupils and teachers will be able join the visit
2463.7 PLAYING FIELDS & SPORTING FACILITIES:
i. The new officers of the Bowling Club were noted
2464. PLANNING MATTERS
2464.1 APPLICATIONS RECEIVED:
i. 18/1672/FUL & 18/1673/LBC: Washingborough Hall Hotel, Church Hill – reconfiguration of bin store, refurbishment & extension of outbuilding, sub-division of Burland room and erection of fence Washingborough parish council do not wish to comment on this application
ii. 18/1722/FUL: Land adj 3 Royal Oak Lane – erection of 1 dwelling (resubmission 17/0791/FUL) Washingborough parish council do not wish to comment on this application
iii. 18/1687/FUL: Land adj 41 Main Road – erection of 1 dwelling (resubmission 18/1044/FUL) Washingborough parish council do not wish to comment on this application
iv. 19/0009/FUL: Land to rear of 13 Fen Road – erection of 1 dwelling Washingborough parish council do not wish to comment on this application
2464.2 DECISIONS:
Approved:
18/1454/HOUS – 35 Fen Road
18/1448/HOUS - 21 Lincoln Road
2465. THE FOLLOWING ITEMS WERE DISCUSSED AND RESOLVED
2155.1 LALC Training Courses – it was agreed, that as Council will be joining LALC's annual training scheme, full advantage of the courses available should be taken. It was agreed for Councilors' to consider any courses they wish to attend and to speak directly with the clerk to request bookings. It was also agreed for the clerk and assistant clerk to attend a refresher 'Parish Clerks' course and for the Civic Office to be closed on Wednesday 27th March. The clerk was also given the authority to book courses for herself and the assistant which are felt to be necessary.
2466. FINANCIAL MATTERS
The following were resolved:
a) The schedule of payments (see page 683)
b) The payment of the Poppy Wreath, Christmas Tree purchase, dressing and lighting from 137 monies
c) The Unity Trust Bank balance was reported as £79,901.32 at the end of December 2018.
d) The accounts for December were noted.
2467. CORRESPONDENCE
a. For discussion: none
b. For information:
i. NKDC: Private Sector Housing Enforcement Policy - noted
ii. Western Power: Winter Resilience Committee - noted.
iii. LCC: Lincoln Transport Strategy, Public Events, Survey, Questionnaire and Workshops – noted
iv. LALC News - noted
v. Lincolnshire Reporter: LCC Street Lights Protocol (no official information from LCC has been received as yet) - noted
vi. Cllr Aspinall: Plant Hire Company appointment of administrators - noted
CONFIDENTIAL
Under the Public Bodies (Admission to Meetings) Act 1960 Councillors resolved to move into closed session for the following items:
2468. SCHEDULE OF PAYMENTS (WAGES/SALARIES)
The schedule of payments was approved.
2469. F&GP COMMITTEE MEETING: GRATUITIES
Since the Local Government (Discretionary Payments) Regulation 1996 were revoked in by the
2011 Regulations and from January 2012 Councils have not had the discretion to pay a retirement gratuity unless there are any contractual obligations to an employee. No member of staff has this obligation included in their contracts. It was agreed for a Bonus Policy to be considered.
There being no further business the meeting closed at 9.29pm.
SCHEDULE OF PAYMENTS:14th
December 2018 - 17th January 2019 Net Amount VAT
Petty Cash
10-Jan-19 Bolts 6.70 1.36
12-Jan-19 Paint, nai ls, batteries 53.11 10.63
16-Jan-19 Window Cleaner (Pav) 14.00
£ 73.81
Current Account
17-Jan-19 Gas (CC) 230.64 46.13
17-Jan-19 Gas (Pav) 85.82 4.28
17-Jan-19 Electric (CC) 293.46 58.69
17-Jan-19 Water Rates (Pav) 232.00
17-Jan-19 NDR (Pav) 344.00
17-Jan-19 NDR (CC) 338.00
17-Jan-19 Christmas Tre Dressing 300.00 60.00
17-Jan-19 Photocopier Charges 169.55 33.91
17-Jan-19 Fuse Box, Lights, Toi let Fan 591.82 118.60
17-Jan-19 Spark Plug Boot 4.18 0.84
£ 2,589.47
Wages/Salaries
Wages Total for January 2018 £ 6,530.25
Total expenditure: 14th December 2018 - 17th January 2019 £ 9,193.53